The monodiet I started today is doing far more than resetting my digestive system. It's also messing with my mindset.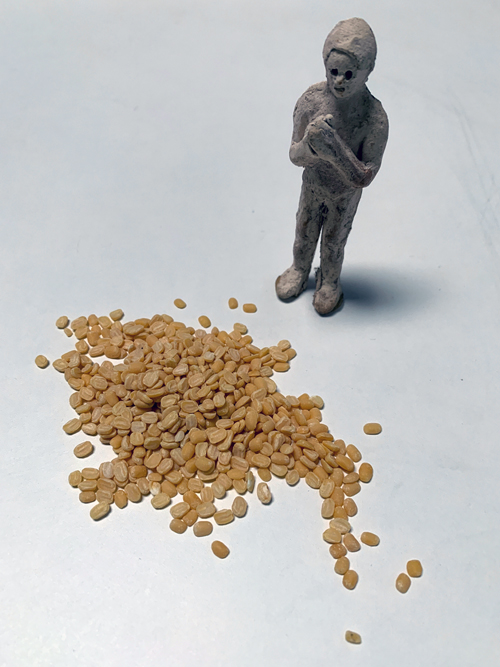 A monodiet of kitchari– a combination of mung dal, white basmati rice, and spices – is an easily digestible food that helps to bring the digestive system back into balance. For the mind, however, it's quite difficult to digest. At least it has been for me, both this time and the reset I did two months ago.
You might think that day 2 is more difficult than day 1, and day 3 more difficult than both combined. Each day presents its own challenges, in its own way. Which is what shifts this experience into spiritual practice: it invites an increased awareness as well as an objectivity in noticing the turmoil, then letting it go, and in the process, inching ever closer to one's true self. Over and over and over again.
Day 1 is all about cravings. My culinary options are drastically limited, which is a significant departure from my middle class norm. When I'm hungry, I typically have the wherewithal to consider what, exactly, would taste good, and then pull it from the cupboard or refrigerator. On day 1 of the monodiet, I'm spending a considerable amount of time thinking about what I can't eat and how dissatisfied I am with the mung dal and rice. Even with the spices, it's fairly bland, compared to my usual flavorful diet.
It doesn't take long to recognize how privileged I am. This monodiet is a choice I've made. I'm not in a refugee camp or a homeless shelter. I'm not living on the streets, grazing for food that's been discarded by someone else as garbage. I don't subsist on my own grown food, in an area where drought or flooding has ruined my crops. No, I live in the land of plenty, although plenty is available only for the privileged.
For some reason, my body responds poorly to gluten and cow dairy, which I'm usually successful in avoiding. Thanksgiving and Christmas upended my regimen – hence the need for a reset. I wonder how people who are homeless cope with food sensitivities or allergies – assuming they have them. Maybe a life of privilege predisposes us to reacting oddly to food; the inability to digest our own inauthentic thoughts may be the root cause. At any rate, those of us who don't have access to a kitchen can't be too picky about the food that miraculously comes our way. I recall the look of disgust on the face of a woman who had once been a vegetarian, but in the troubled circumstances of her life at that time, ate the ham sandwich offered to her at a community meal.
I'll take the kitchari over a ham sandwich, easy peasy. But I'm working on letting go of my attachment to a banana. And negotiating whether or not it would be acceptable to add the banana to my monodiet on day 3. Just the banana! Not the dark chocolate or the granola bars or the….